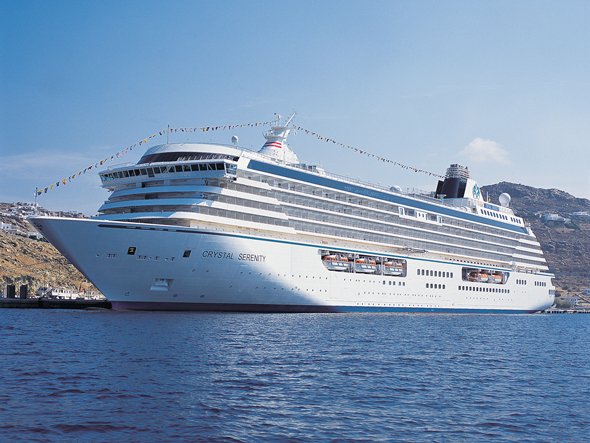 Solo perché sei in mezzo all'oceano, non significa che si dovrebbe sacrificare il lusso.
Queste navi da crociera di lusso navigheranno praticamente ovunque.
1 IL Norwegian Breakaway: La nave di 4.000 passeggeri salperà da New York a Bermuda nel 2013.
Le cabine sono dotate di balcone privato annesso. Per stare in una cabina sul giro di sette giorni da New York a Bermuda avrà un costo di 1349 dollari a persona.
2 THE CARNIVAL SPIRIT: C'è un casinò, una steakhouse, un centro benessere, un teatro, e diversi club a bordo.
le donne single non dovranno andare a cena da sole; accompagnatori sono forniti. Rimanere nella suite per un viaggio di nove giorni da San Diego a la Riviera messicana avrà un costo di 1649 dollari a persona.
3 THE CRYSTAL SERENITY: Condé Nast Traveler loda la nave come la migliore nei mari.
A bordo, si può imparare a suonare il pianoforte presso l'Istituto Creative Learning o perfezionare il vostro gioco di golf.
Per un viaggio andata e ritorno da Los Angeles alle Hawaii, stare in suite avrà un costo di $ 15.490 a persona.
4 THE DISNEY DREAM
La Disney Dream: progettata per le famiglie con tre piscine a bordo, una per bambini, una per le famiglie, e una solo per gli adulti.
Ci sono cinque night club e bar, nonché diversi ristoranti gourmet. C'è anche un teatro per la visione di film Disney in 3D, naturalmente.
5 THE HERBIDEAN PRINCESS: Questa crociera trasporta solo 50 persone in tutto le isole e altipiani della Scozia. Sarà come la propria crociera privata! Sette notti costeranno 6790 dollari.